Brisbane Music Circle presents Smt Jyoti Thakar
May 7, 2016 @ 6:30 pm

-

8:30 pm

$10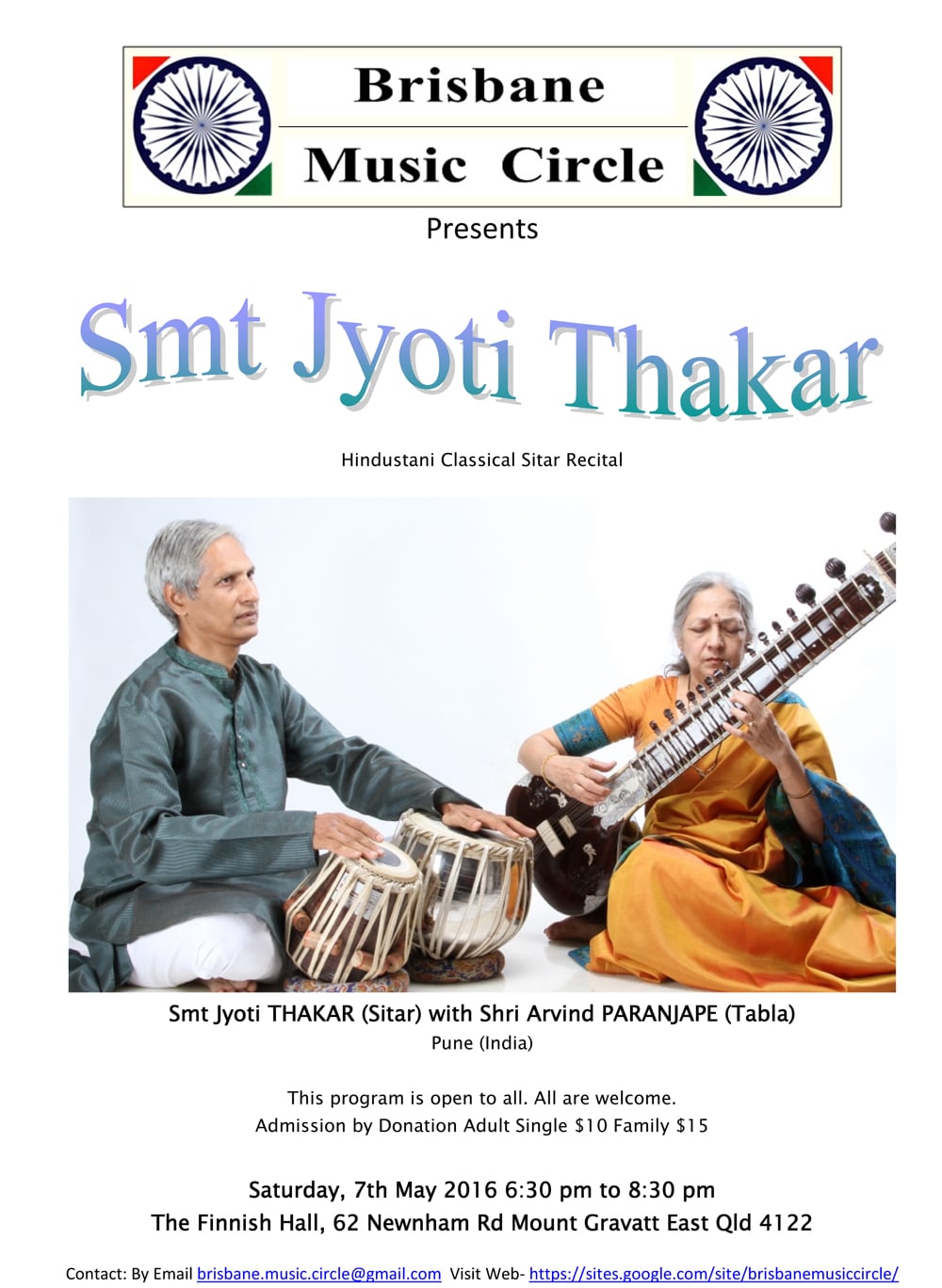 Hindustani Classical Sitar Recital – Smt Jyoti Thakar (Sitar) with Shri Arvind Paranjape (Tabla) Pune (India)
This program is open to all. All are welcome
Admission by Donation – Adult Single $10 / Family $15
Artiste Profiles
Smt Jyoti THAKAR
Smt Jyoti Thakar is the sixth generation of her family, the Ashtewales, to play the sitar.
The Ashtewale family developed its musical tradition in the city of Ujjain in central India.
Due to their dual roles as both patrons and performers, the Ashtewales were able to
learn from many leading court musicians throughout the nineteenth and early twentieth
centuries. This included maestros Mogalu Khan, Bande Ali Khan and Murad Khan. Jyoti's
great grandfather Shri Vishwanath Ashtewale (1880-1960), also respectfully known as
"Chote Bhayya Saheb", himself performed at the royal courts of Gwalior, Indore, Patiala
and Baroda.
Smt. Jyoti Thakar's style retains the bin-influenced Aalap of her forefathers, taught to her
by her father late Shri Vasudevrao Ashtewale. She has also resolutely worked to build
upon this musical inheritance. This pursuit has led her to a diverse range of musical
mentors, including Dr KG and Shri NG Gadgil (disciples of her great grandfather), late
Pandit Dinkar Kaikini (renown vocalist), Pandit Ram Narayan (internationally recognised
Sarangi player) and most recently Pandit Suresh Talwalkar (India's leading Tabla
performer and Guru).
Jyoti's performances feature an uncommonly deep level of musical thought and
development. She offers the astute listener a musical experience culled from a centuries old
family tradition and a lifetime of dedicated self-study.
Shri Arvind Shankar PARANJAPE
Shri Arvind Paranjape was attracted to music from his early childhood, thanks to both his
parents. He is a disciple of late Pandit GL Samant and Tabla Maestro Pandit Suresh
Talwalkar. He has passed Sangeet Alankar degree awarded by the All India Gandharva
Mahamandal in Miraj, Maharashtra. Shri Arvind Paranjape has travelled and performed
widely in India and abroad. He has accompanied many eminent artistes including
vacalists Kamalakar Joshi and Sania Patankar, violinist Atulkumar Upadhye, Mohana
Veena player Anand Sundaram and Kathak Dancer Leena Ketkar. He is well versed in
accompanying both classical and light music forms including Natyasangeet.
Shri Arvind Parnjape works as investment consultant and has authored a book titled
"Dhanawruddhisathi Mutual Fund" which is published by Sakaal Publications.
---