Gayatri Mandir (HSQ) – Diwali Dhamaka 2017
Oct 14, 2017 @ 5:30 pm

-

9:00 pm

$10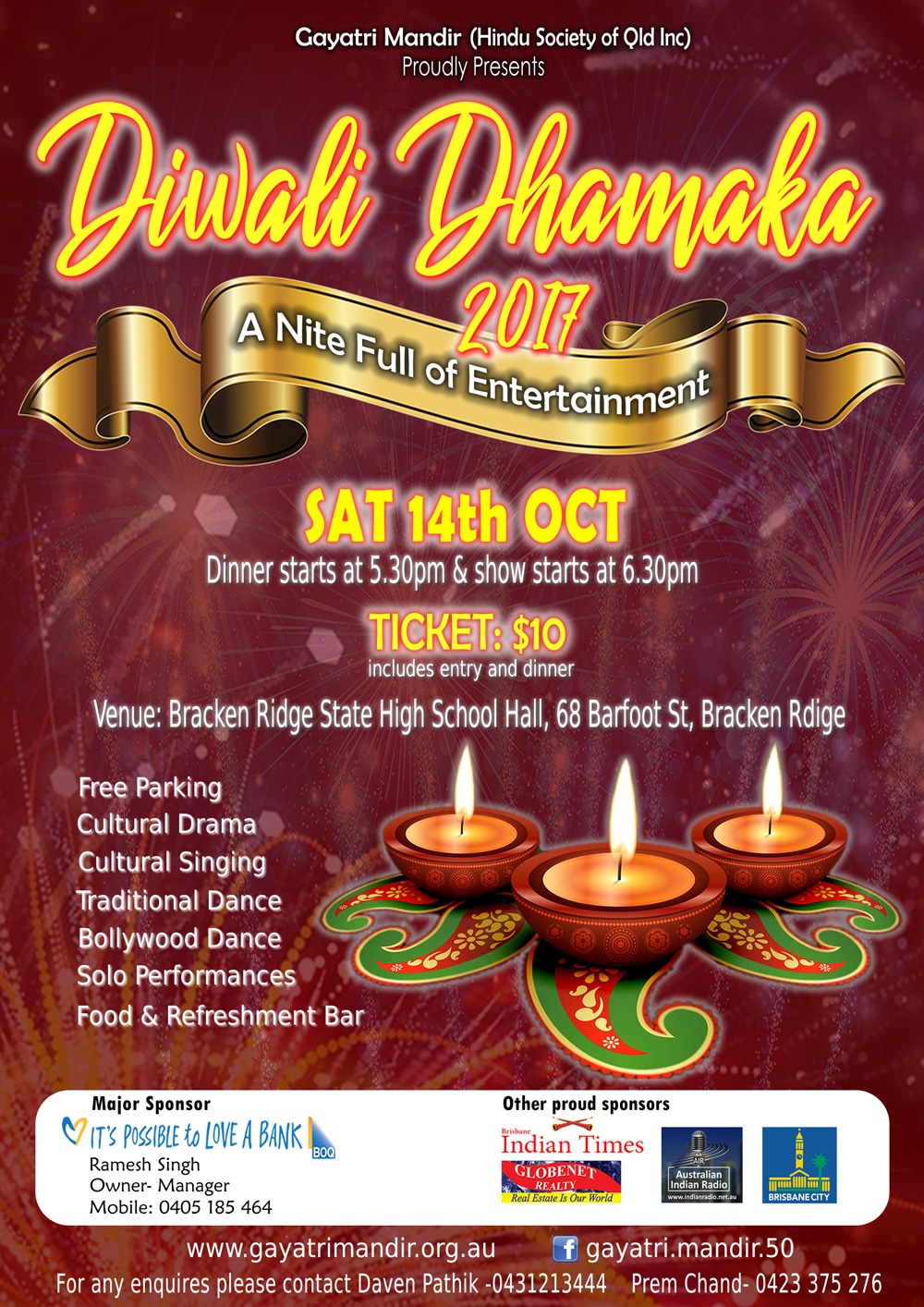 Dinner starts 5:30pm & show starts at 6:30pm (Venue: Bracken Ridge State High School hall, 68 Barfoot St, Bracken Ridge)
Tickets $10, includes entry and dinner
Free parking
Cultural Drama
Cultural Singing
Traditional Dance
Bollywood Dance
Solo Performances
Food & Refreshment Bar
---
RaffleTickets: The Society since incorporation in 1992 is having raffle tickets as its major fund rising project and is always drawn at the Diwali celebration.
The following are the SEVEN prizes. $2 a ticket with 10 tickets in a book costing only $20.
1st Prize:   $1000 Cash – Sponsored by Brisbane Indian Times & Globenet Realty
2nd Prize: $600 Cash – Sponsored by RNA Builders, Raven Ph. 0402 294 398
3rd Prize:   $500 Cash – Sponsored by Dr Dip Chand & Family Ph. 0415 123 931
4th Prize:  $300 Cash – Sponsored by Frizmech AirCon & Ref. Ph Anil 0414 405 421
5th Prize: Car Service Voucher $250  – Sponsored by Zupps Aspley Holden & HSV
6th Prize:  $200 Cash – Sponsored by PPCS Lawyers, Petrie Ph 3142 4051
7th Prize:  $100 Cash – Sponsored by R2 Elect. & Air-conditioning Ph: Rob 0497 656 471
Promoter: Daven Pathik Phone: 0431 213 444
Raffle to be drawn on Saturday 14 October 2017 at Bracken Ridge High School Hall
at 9:00pm.  Winners will be notified. Proceeds of the raffle will go towards the
New Developments at Bracken Ridge. Please retain tickets in order to claim your winning prize.
Door Prizes: This year, the Society is having ten door prizes. Anyone wishing to donate a door prize is requested to contact our Vice President, Prem Chand on 0423 375 276 or send email on premchand1902@gmail.com.
Prizes could be Dinner for Two Voucher, $100 vehicle repairs voucher, 10 DVD's, Movie for 2 etc.
Diwali performers: This year our Diwali stage program coordinator is Neelima Chand and her contact is: Mobile 0405 409 156 & Email: neelima.chand@yahoo.com.au. The performers form is on our Hindu Society's website. Please fill and email to Neelima.
Diwali Souvenir Magazine: This year our Society is producing a Diwali Souvenir Magazine 72 pages all in colour with high-quality printing.
Anyone wishing to advertise their companies, Diwali message for both personal and organisations, please write our Vice President, Prem Chand on premchand1902@gmail.com.
Prem Chand, Public Relations Officer
---