FICQ presents DIWALI 2017
Oct 6, 2017 @ 10:00 am

-

10:00 pm

FREE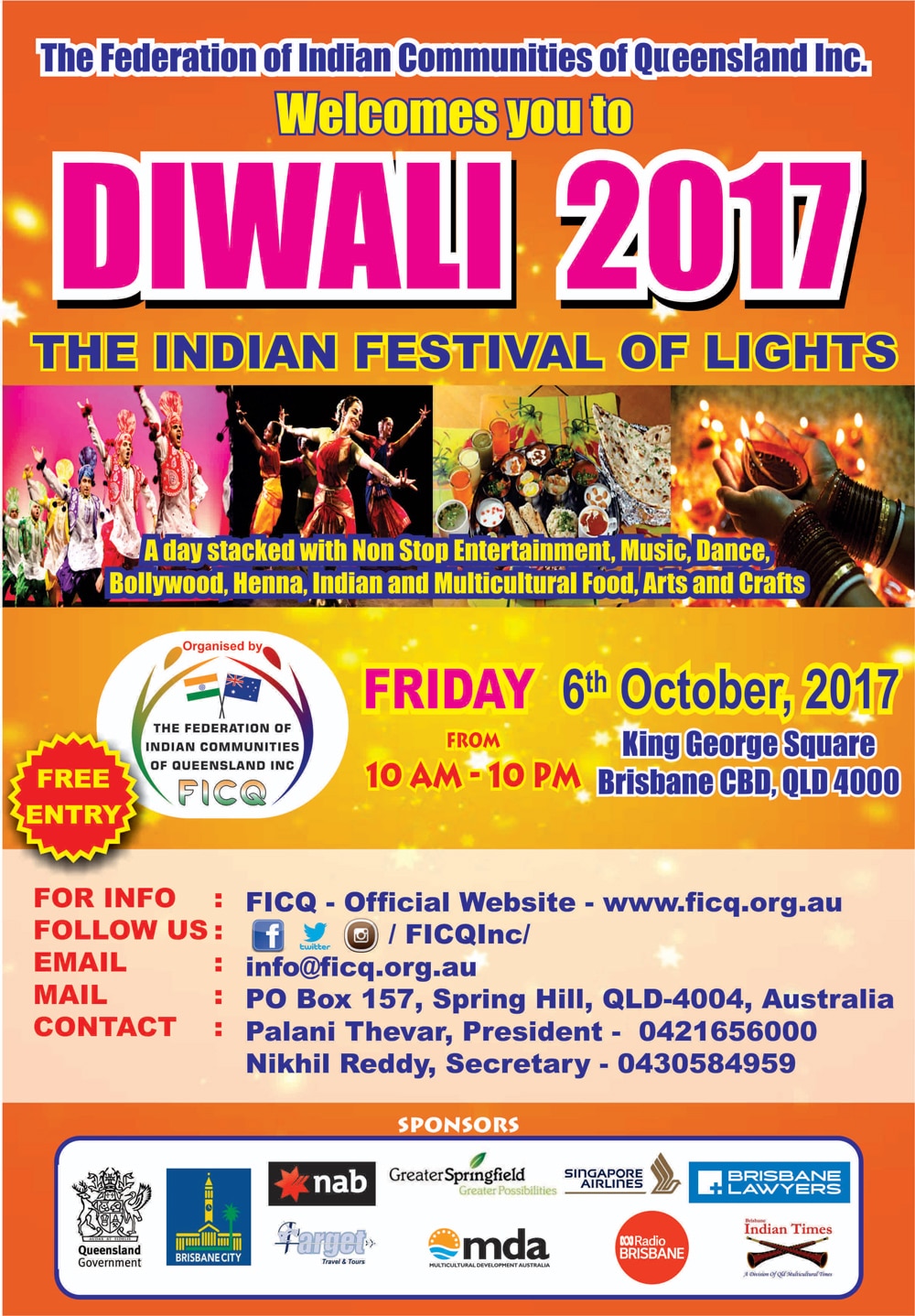 To strengthen the voice of Indian Communities in Queensland
Come and light up Brisbane with Brisbane's Indian communities
FICQ presents Diwali Indian Festival of Lights 2017
Friday Oct 6, 2017 @ 10:00 am – 10:00 pm @ King George Square, Brisbane CBD
Dr Indrani Ganguly, Public Relations Officer
The Federation of Indian Communities of Queensland Inc., (FICQ), the peak umbrella body of all Indian Associations in Queensland invites members of all communities in Queensland to come and celebrate Diwali, the Indian Festival of Lights.
Diwali is considered a signature cultural event and an important contribution to promote the spirit of multiculturalism. It is very generously sponsored and supported by the Queensland Government, the Brisbane City Council, important private sector organisations, the Indian High Commission, several media and non-government organisations. All dignitaries and participants who have attended Diwali in previous years have acknowledged that the festival was very well organised with colourful cultural activities and a wide range of delicious cuisine, all enjoyed in the most spectacular setting in Brisbane, King George Square.
Diwali, the Festival of Lights, is one of the most important occasions for people of Hindu, Sikh and Jain origins. Diwali is a major festival in India, but also celebrated in other countries on the subcontinent and around the world. It is a time to celebrate with family, friends and community, and to highlight the values of compassion, selflessness, harmony, tolerance and respect – values that resonate with the Indian and the wider Australian community.
Diwali marks the victory of good over evil and the light over darkness. It is a story of dedication to the pursuance and protection of the truth, justice, cooperation and respect. This is a message that holds true for all communities at all times.
FICQ has been celebrating this unique all-day event each year since 2010. The celebrations are a vibrant combination of the many forms of traditional and contemporary dance, music, fashion and culinary delights that comprise the rich and diverse cultural tapestry of the Indian sub-continent.
This is one of the best occasions to meet, greet and celebrate with friends and family in a friendly and invigorating atmosphere. Diwali is a festival for everyone – children, adults, seniors are all welcome! Join FICQ to make this an even bigger success than before.
For more details please contact Mr Palani Thevar, President, FICQ, president@ficq.org.au Mobile: +61 421 656 000
The Federation of Indian Communities of Queensland (FICQ), PO Box 157, Spring Hill, QLD – 4004, Australia www.ficq.org.au
---