Indian International Film Festival of Queensland – Head of Jury in 2015 is Mr Abhishek Bachchan
Jul 9, 2015

-

Jul 13, 2015

$45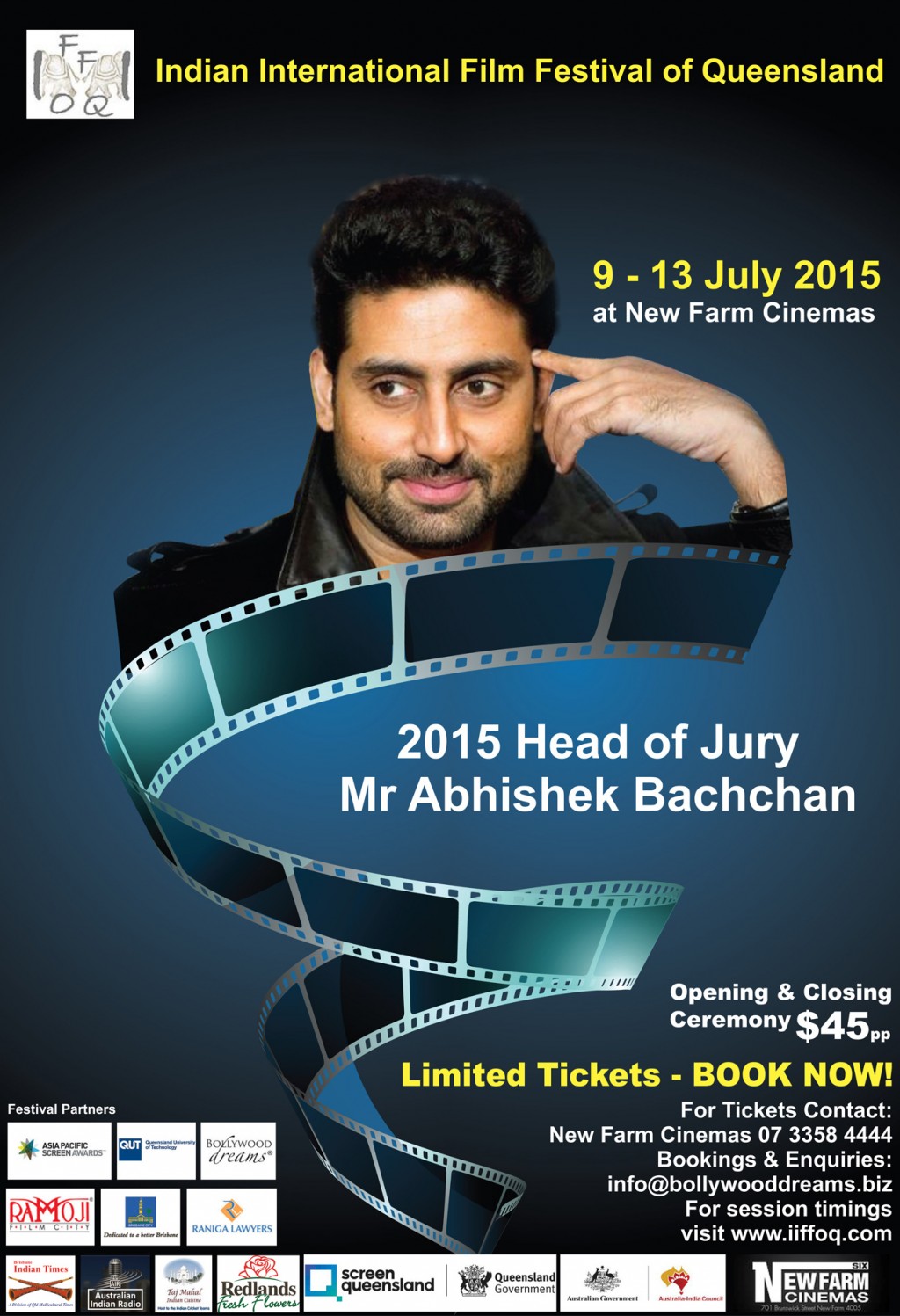 IIFFOQ 2015 will be inaugurated by Legendary Indian Actor, Producer and Superstar Mr. Abhishek Bachchan on the 9th of July. Mr. Abhishek Bachchan has kindly accepted to be Head of Jury for the Competition section of IIFFOQ 2015. IIFFOQ 2015 competition screenings will be held at New Farm Cinemas, Brisbane.
July 9 – July 13 2015 at New Farm Cinemas
The Founder and Artistic Director of Indian International Film Festival of Queensland (IIFFOQ), Mr. Chayan Sarkar, is an independent film maker of Indian origin living in Australia. This unique competitive independent Indian film festival has the support of Lord Mayor of Brisbane Graham Quirk, Queensland University of Technology and Brisbane's strong Indian community. India is the largest producer of movies in the world. Indian cinema is going through a transition where the focus is towards making quality content with global appeal. This film festival will create opportunities for Indian film makers to connect with the Australian audience and Australian film industry. The interaction and cultural exchange through quality cinematic expressions are vital in the development of creative and innovative film content. IIFFOQ's vision is to gradually make Brisbane a hub for recognising new talent in Indian cinema and strengthen the creative industry links between Queensland and India exploring future co-productions and creative collaboration.
Tickets are limited – Purchase your tickets Now: Contact New Farm Cinemas 07 3358 4444 or for Booking and Enquiries: iiffoq@bollywooddreams.biz
Head of Jury 2015 – Abhishek Bachchan: Abhishek Bachchan (born 5 February 1976) is a Leading Indian film actor, producer of repute . He has starred in many blockbusters during his 15 year career in Indian Film Industry.
His father Mr Amitabh Bachchan is an Iconic Lead Actor in Hindi cinema, his mother  Mrs Jaya Bhaduri Bachchan is a highly acclaimed leading actress & a Member Of Indian Parliament and his wife Mrs Aishwarya Rai Bachchan is a leading Bollywood actress & International Star.  Read more….
Honorary Jury 2015 – Dr. Mandy Thomas: An anthropologist by training she has published more than 8 books as well as numerous book chapters, journal articles, reports and exhibition catalogue essays. She has researched primarily in the area of social and political change in Vietnam. Read more….
Honorary Jury 2015 – Dr. Anne Demy-Geroe: Anne Démy-Geroe is co-Director of the Iranian Film Festival Australia and was the inaugural Artistic then Executive Director of the Brisbane International Film Festival from 1991 until 2009. She currently teaches Asia Pacific cinema at Griffith Film School and is a doctoral candidate on Iranian Cinema at the university of Queensland. Read more….
Thursday July 9
Opening Event, Inauguration by Mr Abhishek Bachchan – 4:30pm – 7pm
7pm – 7:16pm – Opening Short Film –  Departure Lounge – A Bollywood Affair (16min)
7:30pm – 9:50pm – Opening Feature Film – Jogajog (Relationship) (138min)
Friday July 10
6:30pm – 6:45pm – Children of Conflict (13.25min)
7pm – 8:40pm – Anubrate Bhalo Acho (100min)
9pm – 11:15pm – Fugly (134min)
11pm – After Party by Invitation
Saturday July 11
12:30pm – 3:10pm – Come Back Jeetu (159min)
3:30pm – 4:50pm – The Path of Zarathustra (78min)
5pm – 5:20pm – Yari Road (20min)
6pm – 8:15pm – Fugly (134min)
8:30pm – 10:20pm – Perariyathavar (Names Unknown) (110min)
Sunday July 12
12:30pm – 2:10pm – Anubrate Bhalo Acho (100min)
2:30pm – 3:10pm – The Black Sheep (40min)
3:30pm – 5:50pm – Abhinetri (140min)
6pm – 8:20pm – Matrimony (18min)
6:30pm – 8:30pm – Bodhon (120min)
Monday July 13
11am – 12:20pm – The Path of Zarathustra (78min)
12:30pm – 12:45pm – Bohemian Musician (14.30min)
1pm – 1:20pm – Yari Road (20min)
1:30pm – 3:50pm – Jogajog (Relationship) (138min)
4pm – 4:16pm – Departure Lounge – A Bollywood Affair (16min)
4:30pm – 6:20pm – Perariyathavar (Names Unknown) (110min)
7pm – 8pm – Closing Ceremony – Announcement of award winners
8pm – 11pm – Special Screening Guru (Out of Competition)
11pm – After Party by invitation
---