'GIRMIT' In Fiji – 141st ANNIVERSARY
By Sarat Maharaj
On 29th April 2020, Australia observed 250 years of Captain Cook's first landing in Botany Bay, NSW.  This first landing, for the British at that time was a great achievement, and an opportunity to expand its Commonwealth Territory. But for the Indigenous residents, already in Australia for 60 thousand years, it was considered an invasion. The British rule has been such that even after 250 years, Indigenous people are still considered as 'second class citizens' in their own country. During this era, the British also had colonised India & Fiji.
This year, it will be 141 years since the first Indians were brought to Fiji by the British Colonialists from India. First boat-load arrived on 14 May 1879, hence the need to commemorate 'The First Landing' of Indians in Fiji.  For those readers who may not be familiar with this history, well, here is just a brief excerpt from several books which have been written, many in volumes. That's how it all happened. Here is a link on Indians in Fiji:  http://girmit.org/.
When Britain formally colonised Fiji on 10 October 1874, they set-up a strategic plan to turn Fiji into an economic base for self-sustainability. Most land at that time was just virgin forests. Britain appointed Sir Arthur Gordon as governor of Fiji, who hired CSR (Colonial Sugar Refinery) company of Australia to introduce sugarcane farming in many parts of Fiji.
Arthur Gordon soon established that clearing virgin forests and planting sugarcane was not something the native Fijians could or would do successfully. Fijians were used to their subsistence living off the sea and some backyard gardening.  Since India at that time was also under the British colonial rule, Sir Arthur asked Britain to bring Indians from India under an 'Indentured Labour Scheme', a diplomatic term for 'Slavery'.  First lot of 463 Indians arrived on vessel Leonidas in Levuka, the first capital of Fiji.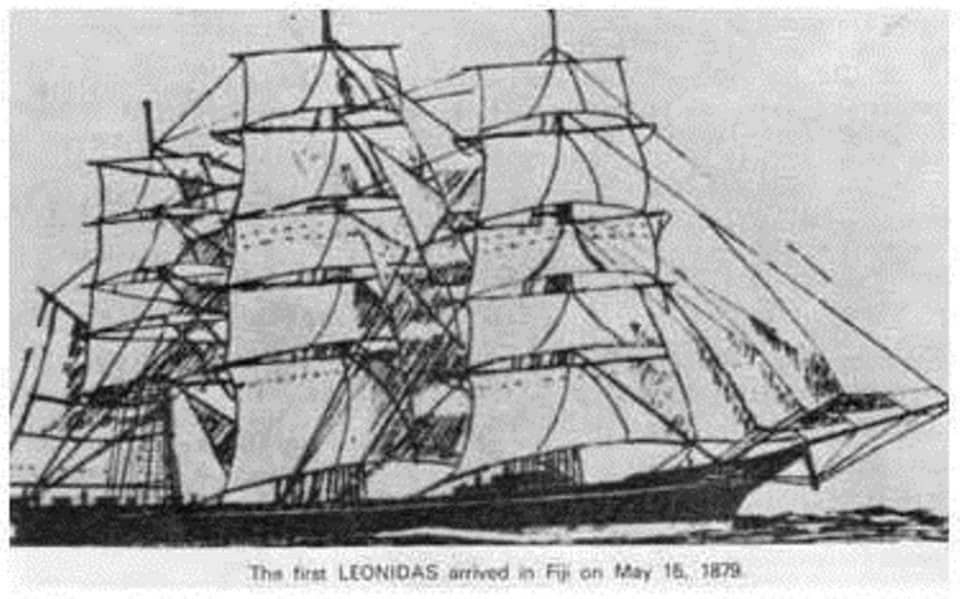 Later, more than 61,000 more Indians were brought in to work on the farms. The British made them sign an agreement for five years, after which they could choose to go back to India, if they wished or 'if they could'. Knowing little English at that time, the Indians knew the word 'Agreement' as 'Girmit'.  They were made to live in barracks/workers-camps, in tiny enclosures, with no in-house amenities. Despite the deplorable living conditions and 'one-shilling' a day payment for a 14-16 hour day's hard work on the farms, most of these Indians still prevailed.  Some died from diseases, whilst many who questioned the living & working conditions, were either shot or hung by the Australian farm-overseers, with no one to question them. Today Fiji is left with three out of five large sugar mills, with sugar being the main export for Fiji.
As I said in the beginning, it is a long and sad story told by many writers and historians. But, those who survived the tyranny of the British regime, they put Fiji on the world map.  Our ancestors, in cooperation with our Fijian brothers and sisters, helped transform Fiji into a tolerant, multicultural and prosperous society. 'Girmit Day' is commemorated in Fiji on 14 May of each year, with mixed feelings across the nation. Here is a link where the late Prime Minister of Fiji, Ratu Mara has expressed his views on 100th Anniversary of 'Girmit': A centenary Anthology 1879–1979 https://www.facebook.com/search/top/?q=girmit%20global&epa=SEARCH_BOX. Ratu Mara further emphasises the fact that Indians helped develop to what Fiji is today. Those are his words, not mine.
The 'Girmitiyas' are proud to have contributed extensively in gaining independence for Fiji within 91 years of their arrival, under duress. Not many colonised nations can claim this record. Former Indo-Fijians now living in Australia, New Zealand, as well as in many other parts of the world continue to commemorate 'Girmit Day' to cherish the achievements of our forbearers.
Today we see a significant increase in cultural integration.  Indians can speak fluently in native Fijian dialect. Fijians can speak in Hindi, and even sing songs & bhajans (hymn) in Hindi. There are more inter-marriages these days. It's never too late. The distinct cultural barriers are slowly breaking down. It's only the politicians who are still using the race factor to divide & rule, a 'trade mark' of British administration across the commonwealth of nations, and so adopted by many other nations.
Even though a large number of Indo-Fijians now live abroad, we continue to be connected with Fiji, our birth place.  Our hearts & thoughts are always for the welfare of all citizens of Fiji. During crisis, we mobilise our respective networks to render whatever assistance we can. Some of us left Fiji following a series of political upheavals, but we have quickly put that behind us, and continue to provide professional service in many areas of need to one and all.
International Congress for Fiji inc (ICFI) has been instrumental in providing for basic education to needy students in Fiji. From 2002 to 2014, ICFI has paid school fees for thousands of high school & tertiary level students. From 2015 to date, Fiji government has been paying tuition fees for all students, but not for stationery & books. Those students who cannot afford stationery and other supplementary educational material, are being supported by ICFI till today.
So far ICFI has assisted more than 15,500 students in the amount of $965,000.00 across Fiji, with no racial or gender bias. Funds generally have been raised though 'Girmit Night Musical' events, dinners,  sponsorships, and donations from well wishers. Should you wish to make a contribution to this noble deed, you may contact any member of ICFI or myself on regmaharaj@gmail.com.  Every dollar donated is used on needy students. All administration & travel costs are paid by members of ICFI from their own pockets, over and above their personal cash donations. You can also visit our website: www.icfi.org.au.  Come join us to make a difference to someone's life for the better, a slogan of the 'Girmitiyas'.
WE SALUTE OUR 'GIRMITIYAS'.