BRISBANE, 2nd October marks the birth anniversary of Mahatma Gandhi and also of Lal Bahadur Sastri Ji. Since 2014 GOPIO Queensland has been organizing Gandhi Jayanti in Roma Street Parklands. Before the statue was unveiled the celebration would take place in the parkland prescient at different locations close to where the statue is now.
As usual all Indian Community organisations were invited to be part of the celebration, and it was pleasing to witness the unity in action amongst Queensland Indian Community.
Umesh Chandra OAM as the MC called to order and introduced Uncle Steve C Coghill to formally acknowledge the traditional owners of the land. Uncle Steve C Coghill acknowledged the traditional owners of the land and in doing so also acknowledged the elders of the other cultures.
Umesh Chandra OAM said, "We meet in challenging times and I would like to show my appreciation for all of you having taken the time out of your busy schedules to be here today. As we are meeting during the challenging times one can just imagine the challenges that Mahatma Gandhi would have had to face. Putting that in perspective our challenges today are somewhat subdued".
Umesh Chandra OAM briefly outlined the proceeding for the day, he said "in interest of time we have limited speeches and presentations. The format will be; each speaker will be asked to respectfully lay the wreath at the statue and then deliver his/her speech".
He first introduced the President of the GOPIO Qld, Rakesh Sharma. Rakesh Sharma has been a founder member of the GOPIO Qld, he has been the past president of the Hindu Mandir Association and convenor of the Hindi program on radio 4EB. Rakesh Sharma was requested to lay his wreath and deliver his speech which included the welcome address.
In introducing the next speaker Umesh Chandra OAM said, "It is wonderful that we are observing Gandhi Jayanti in tune with his philosophies and in a united manner. So, we have today representatives of major Indian organizations amongst us. Next up, it gives me great pleasure to introduce Mr. Shyam Das the president of FICQ.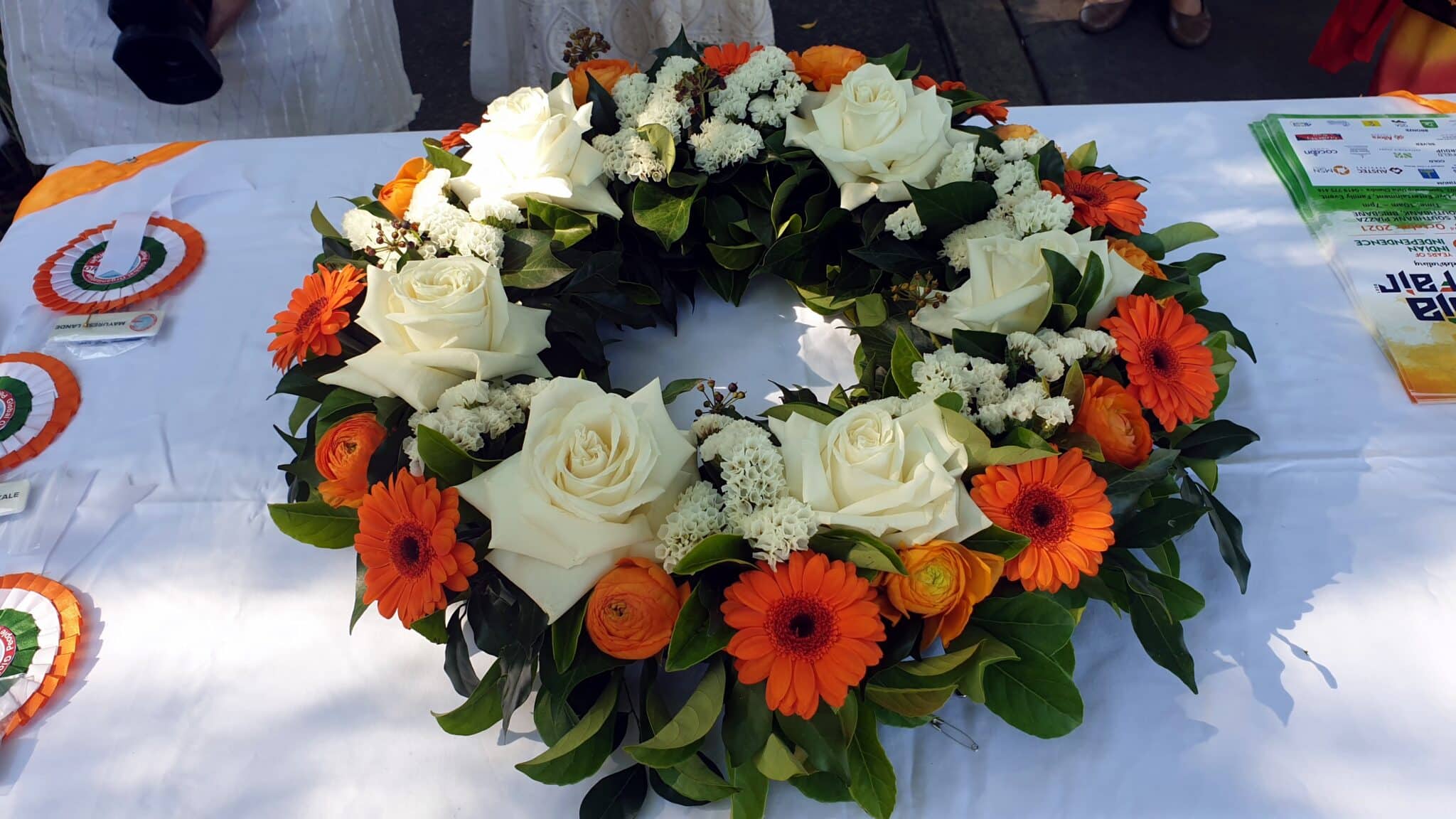 He has been a former president of GOPIO Qld of which he has also been a founder member. He has served on various committees including being a board member of radio 4EB. I would like to now invite Mr Shyam Das Ji to lay his wreath and deliver his speech". Shyam Das, president of the FICQ laid his wreath and delivered his speech.
The next speaker was Mrs Archana Singh Ji, The Honorary consul for India in Qld. Mrs Archana Singh ji is a tireless worker attending numerous community functions. She has been serving the Indian community well before taking on the Honorary consul's role. Specially during the student's unrest period. She went up and beyond the call of duty in their service. And here today, she is the highest representative of Indian Government. Mrs Archana Singh ji laid her official wreath and delivered her inspiring speech.
The next speaker was Jim Varghese AM – National Chair Australia India Business Council and Chairman, Gandhi Salt March Limited. He also chairs Gandhi Statue committee of which Hemant Naik is the secretary. This statue is here due to the committee's strong advocate under the leadership and guidance of Jim Varghese. Jim also represented Springfield land corporation at the event as Dr Maha Sinnathamby AM could not make it. Jim has always worked in and believed in community unity. In furtherance of which he has held many reconciliation sessions in his own time and accord. Later on, the day he had organized a hybrid Gandhi Jayanti in Springfield. Jim Varghese laid his wreath and delivered his speech in which he emphasized upholding of the values of Mahatma Gandhi's teaching and following the paths lead by him rather than just talking about it.
The next speaker was Hemant Naik, who is the secretary of Gandhi Statue committee. Hemant has been a long-standing community worker here in Brisbane. PM Narendra Modi Ji, even before he become the chief minister of the Gujarat had visited Brisbane and during a dinner function organized by Mr Pars Ram Punj had discussed the possibility of Gandhi Statue in Brisbane with Hemant Naik that dream became a reality and PM Narendra Modi Ji had the pleasure officially unveiling this statue here. Hemant Naik talked about journey and how a confluence of ideas eventuated into a united reality.
Hemant Naik laid his wreath and delivered his speech. Following his speech, he was joined by Kalpana Naik to sing few bhajans at that point in time everyone present were invited to lay their wreath and pay floral tributes.
In conclusion Umesh Chandra OAM said, "Ladies and gentlemen, before we finish today's proceeding, I would like to Thank GOPIO Queensland committee for their excellent facilitation, Aziz Popat for the refreshments, Rakesh Sharma  for the drinks, all the community organisations for the solidarity and unity, Each and every one of you for making time to be here. In the end I seek your forgiveness for any shortcoming there may have been in my conduction of today's proceeding".