BRISBANE, Vedanta Centre of Sydney Brisbane Chapter hosted their 17th annual function on Saturday, October 3rd, 2021 at Coorparoo Secondary School. The function began with the traditional Karela drums by Chenda Melam, followed by the traditional lighting of the lamp by invited dignitaries.
The formal acknowledgement to country was conducted by Uncle Steve C Coghill, an indigenous elder who compared the customs and traditions of Indian community to that his own indigenous community.
Dr Ashim Majumdar vice president delivered his formal welcome speech and highlighted the activities of Vedanta Centre of Sydney Brisbane Chapter. He appreciated the support of the community and volunteers in the day to day activities of the centre.
Hon. Leanne Linard MP, Minister Children and Youth Justice and Minister for Multicultural Affairs could not be present but sent a message of congratulations and appreciations to the centre.
The highlight of the event was a keynote address by Swami Sridharananda by a video link. He mentioned how he missed being here in person due to COVID restrictions. His message was on the oneness of society, oneness of religion, and the true meaning of multicultural society. A very powerful message delivered with divine conviction.
Senator Paul Scarr, senator for Queensland spoke highly of the centre and showed his appreciation for the work done by all volunteers and devotees under the guidance of Swami Atmeshananda. He mentioned that being based in Springfield he has got to know the centre very well and appreciates the work done specially in the field of community unity.
Mrs Archana Singh, Honorary Consul for India in Queensland thanked Uncle Steve C Coghill for his wonderful welcome to country and for his comparison on the synergies of Indian and Indigenous communities. She showed her appreciations for all the stage items and made a special mention for the play done by Bala Sangha and Yuva Sangha as it was reflective of current conditions and also in tune with the philosophies of Vedanta.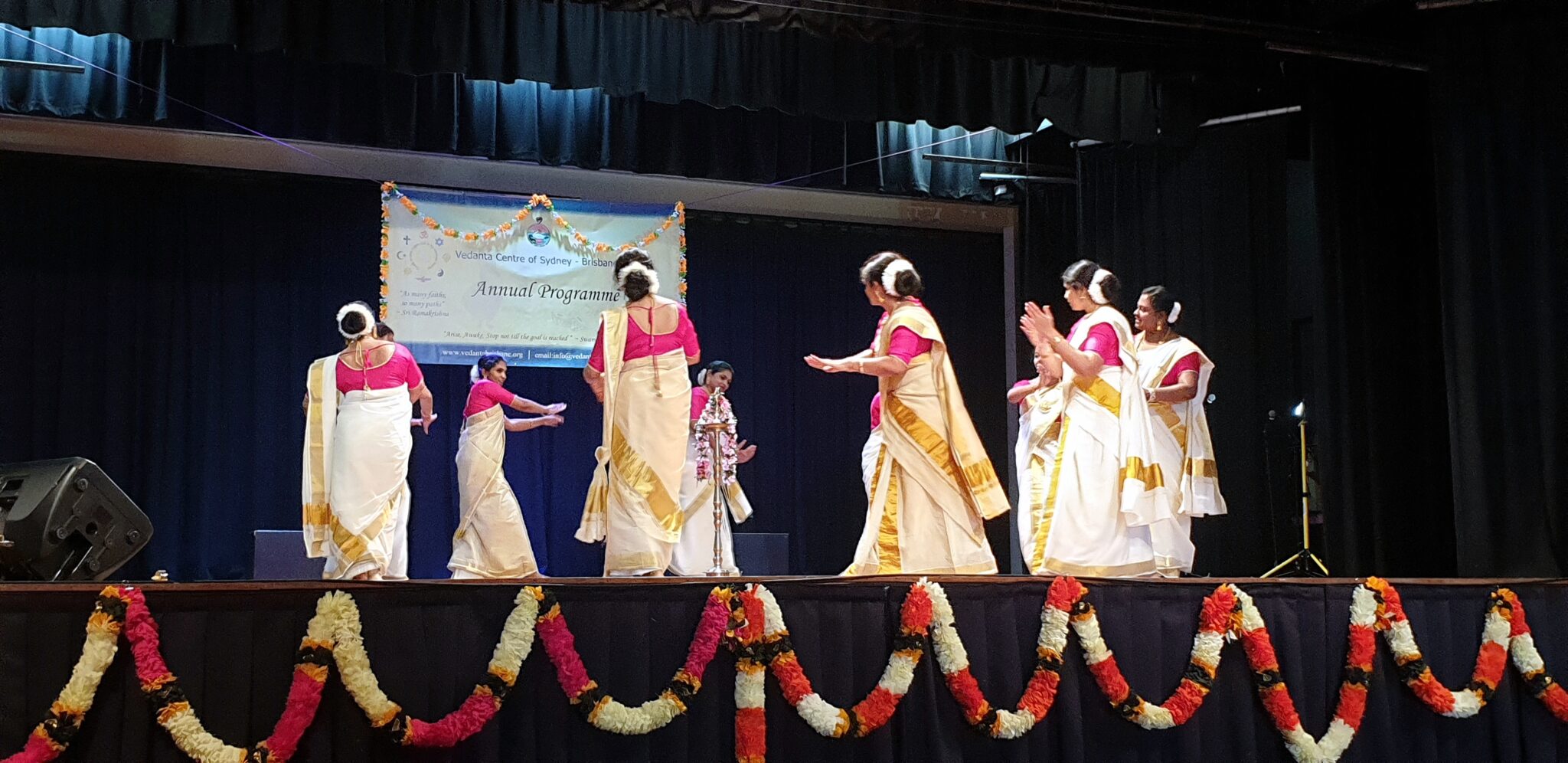 The stage items included Bharatanatyam dance by students of Nadananjali School of Dance, a powerful skit by Bala Sangha and Yuva Sangha based on the problems with COVID19. Taking everyone to another level with his high pitch singing and audience interactions was Tenzin Choegyal a Tibetan singer and song writer. The Thai culture and language school performed a delightful and melodies traditional Thai dance. From the latin culture Danza Flamenca duo performed foot tapping numbers. The cultural performance finished off with Thiruvathira Kali.
Dr Unnikrishnan Nair moved vote of thanks for the known and unknown behind the scene workers. Overall, a very well planned and presented program.